• Entrepreneurs • Flashlight • Grip-On • LED • LED flashlight • RBJ • Rochester Business Journal • Small Business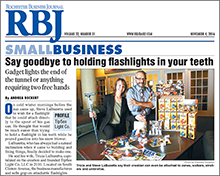 The TipSee Light Company is happy to have been featured in Rochester Business Journal's SMALL BUSINESS, a biweekly feature focusing on entrepreneurs in Rochester, New York. Article by Andrea Deckert and photo by Kimberly Simpson. VOLUME 32, NUMBER 31 • NOVEMEBR 4, 2016 •  WWW.RBJDAILY.COM   Download a PDF copy of the article now!
---
• Clip-on • Durability • Flashlight • Grip-On • LED • LED flashlight • Lightweight • Powerful • Waterproof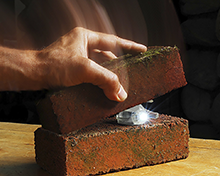 Small yet powerful, this tough, flexible polyethylene Grip-On Attachable LED Flashlight houses a 76 lumen super bright white LED 3-bulb trio for better visibility. Plus, it's lightweight, weighing just 1.3 oz and it's waterproof, so it's safe to clip anywhere.   Buy a Grip-On LED Flashlight now!